While a good hair shampoo and conditioner can assist your hair's health, what you put into your body counts more. Of course a well balanced diet has a lot to do with healthy life, but sometimes it ain't enough. Therefore, supporting your overall health with vitamins and supplements can boost the well being of your health including, hair, nails and skin. Viviscal Extra Strength Hair Nutrient Tablets are one of the well know supplements on the market. Viviscal continues to demonstrate an excellent safety profile and for good reasons. Some even call it the celebrity's favorite supplement.
Overview: Hair loss and Malnutrition
Hair loss may occasionally be caused by lack of vitamins in the diet. Some people who go on crash diets that exclude protein or who have abnormal eating habits may develop vitamin malnutrition. When this happens, the body will help save energy by shifting growing hairs into the resting phase. Women are mostly to develop this type of hair loss than men. In fact, lack of proper nutrition is one of the most common causes of female hair loss.
Every month, women tend to lose a lot of blood due to periods. Following an unbalanced, poor diet will definitely make not just their hair, but their overall health worse. Therefore it is important for a woman to support her health by taking vitamins and supplements. This will help boost her energy and assist her hair in growing normally healthy. Of course eating healthy instead of junk food will have its many benefits. Specially while taking vitamin supplements. A little work outs two to three days a week won't harm anyone, right? So, in order to boost your overall health, combine a healthy diet with supplement intake and see ow your health will improve in only one month.
Viviscal Extra Strength Hair Nutrient tablets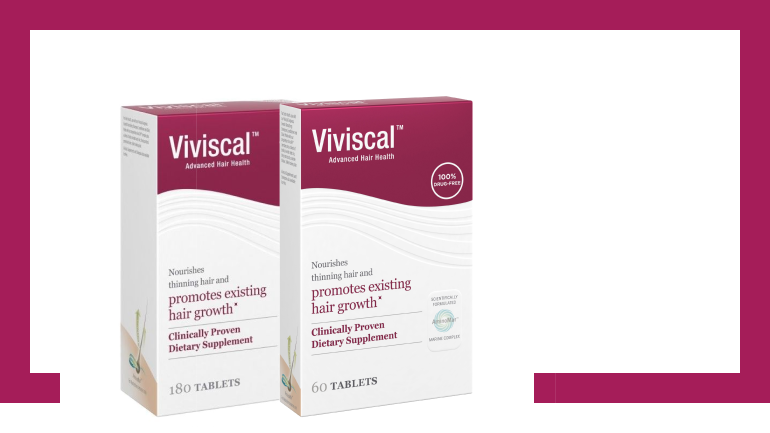 When you look for the best hair supplements, Viviscal Extra Strength Hair Nutrient comes on the top of every list. Viviscal are a hair nutrient tablets that you take to combat hair loss due to malnutrition. These tablets are supposed to nourish thinning hair, while promoting existing hair growth from within. What makes viviscal so trusted is its exclusive group of natural ingredients:
Amino Mar Marine Complex
This is a blend of both sustainably sourced shark powder and mollusk powder, which seem to be exclusive to Viviscal.
Zinc
Vitamin C
Niacin (B3)
Biotin
Iron
Horsetail extract
Millet Seed Extract
How the hair nutrient tablets work?
Viviscal normally works in four stages over a 6-month period, but most users can start to see improvement after only 3-4 months.
–Stage 1 (up to month 2): Viviscal works to nourish the hair follicles from within
–Stage 2 (months 2 & 3): Viviscal strengthens and promotes the growth of existing hair
–3rd Stage (months 4 & 5): Promotes growth of hair where it has temporarily slowed down or stopped. These hairs may be thin or wispy at first, like baby hair.
-In the 6th month the hair becomes stronger, thicker, healthier and more vibrant.
Possible side effects
-In clinical trials conducted on Viviscal Extra Strength Hair Nutrient Tablets, there were no reported adverse events and Viviscal continues to demonstrate an excellent safety profile. That is, there have been no reports about Viviscal side effects.
-AminoMar is the proprietary active ingredient in Viviscal supplements. AminoMar is a compound of marine extracts and contains polysaccharides. There were no reports about AminoMar side effects, however, Viviscal is not suitable for people with an allergy to fish or shellfish.
-Viviscal does not contain Dairy, Soy, Nuts, Eggs or Wheat. However, it is not confirmed that the manufacturing site is free of all of these ingredients.
-Viviscal supplements do not contain gluten-containing ingredients. However, Viviscal Extra Strength does contain Millet Seed and some individuals with gluten sensitivity find Millet Seed does not suit them.
-3%
Viviscal Extra Strength Hair Nutrient Tablets, 60-Tablets (Packaging May Vary)
Price: $28.49
Was: $29.27
VIVISCAL EXTRA STRENGTH SUPPLEMENTS BX OF 60 TABLETS
Price: $32.82
-45%
Viviscal Man Maximum Strength Hair Nourishment System, 60 Tablets(for men)
Price: $27.29
Was: $49.99
Viviscal Woman Maximum Strength 60caps 2 Pack
Price: $75.84
Viviscal – Professional Strength Hair Growth Supplement- 2 Pack (2 x 60 tablets)
Price: $118.95
Viviscal Extra Strength Hair Nutrient Tablets, (240)
Price: $159.60
Viviscal Hair and Scalp Treatment Extra Strength Tablets for Women — 60 Tablets
Price: $39.44
Viviscal Extra Strength Hair Nutrient Tablets
Quality
Price
Reviewers rating
Summary
Viviscal Extra Strength Hair Nutrient tablets are a hair treatment pills that people take to combat hair loss due to malnutrition. These tablets are supposed to nourish thinning hair, while promoting existing hair growth from within. Viviscal is the number one and the most trusted pills for most Hollywood celebrities